Accessories
Enhance your productivity with these great tools! For even more ideas, see the Technology Solutions for Music Education page at http://www.sibelius.com/products/packs/educational/index.html
Two-Button Mouse
A two-button mouse speeds up your work by providing rapid access to contextual menus in Sibelius. We have had good experiences with the following:
Sibelius Colored Keyboard
The Sibelius Coloured Keyboard has color-coded keys printed with shortcuts, making Sibelius even easier and faster to use. It's the perfect accessory for beginners and experts alike. Learn more at http://www.sibelius.com/products/keyboard/index.html.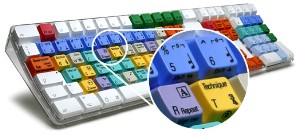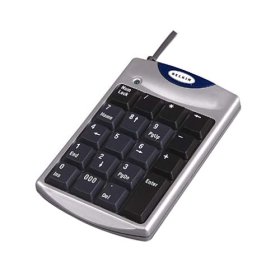 External Keypad for Laptop Users
If you are using a laptop (notebook) computer that doesn't have a built-in numeric keypad, or if you are left-handed and find changing note value on the numeric keypad with your right hand difficult, you may wish to invest in an external numeric keypad for your computer.
Because Sibelius's Keypad specifically responds to the number keys on the numeric keypad (and not the number keys along the top of the main keyboard), not all external numeric keypads will operate correctly in Sibelius.
For example, the popular Kensington USB numeric keypad won't work with Sibelius, because it mimics the keys along the top of the main keyboard rather than the numeric keypad itself.
Sibelius users have reported that these external numeric keypads work correctly for them.
External USB MIDI Keyboard
Note entry on Sibelius is markedly faster when using a MIDI keyboard. USB MIDI keyboards come in many varieties. Those who travel with a laptop may wish to look into a two octave, bus-powered USB MIDI keyboard such as any of the ones listed below.