Biography
Tom Rudolph's Vita is available for download in Word and PDF formats.
Thomas Rudolph, Ed. D. is an adjunct instructor for the Berklee online school. He has authored two online courses for Berklee and teaches several other courses. He also teaches summer workshops in music technology at Villanova University and Central Connecticut State. Dr. Rudolph is one of the seminal people in music technology. He began his work as a clinician and workshop leader in the field in 1982. In addition to his work in teaching and music technology, Dr. Rudolph is a busy trumpet performer in the Philadelphia area and performs with the group Gaudeamus. His compositions and arrangements have been published by Neil Kjos and Northeastern Music Publications, Inc.
He has authored many books including: Finale An Easy Guide to Music Notation (Third Edition) Sibelius: A Comprehensive Guide to Sibelius Music Notation Software (Second Edition); Teaching Music With Technology (Second Edition); Recording in the Digital World; YouTube in Music Education; Finding Funds for Music Technology; and he was one of 4 co-authors of the TI:ME publication: Technology Strategies for Music Education. Rudolph is the co-author of the Alfred Music Tech Series which includes Playing Keyboard, Music Production and MIDI Sequencing, and Composing with Notation Software. He has published many articles on music technology that have appeared in the Music Educators Journal, The Instrumentalist, and Downbeat magazine.
Dr. Rudolph has consulted with dozens of companies including Apple Computer, Korg, SoundTree, Roland, Bose Corporation and many others. In 1995, he was one of the founders of the Technology Institute for Music Educators (TI:ME).
Dr. Rudolph has been elected to Who's Who Among America's Teachers in 1996, 2005, and 2006, He has three children, Liia (24) Gusten (21), and Kalev (17).
His hobbies include running, skiing, racket ball, and Civil War Living History. He runs the Broad Street 10-mile run www.broadstreetrun.com as well as other races in the Phila. area. He also participates in civil war living history as a reenactor and is the bugler for the 17th PA Cavalry, Company E. Check out information on the 17th PA unit at: www.17pacav.com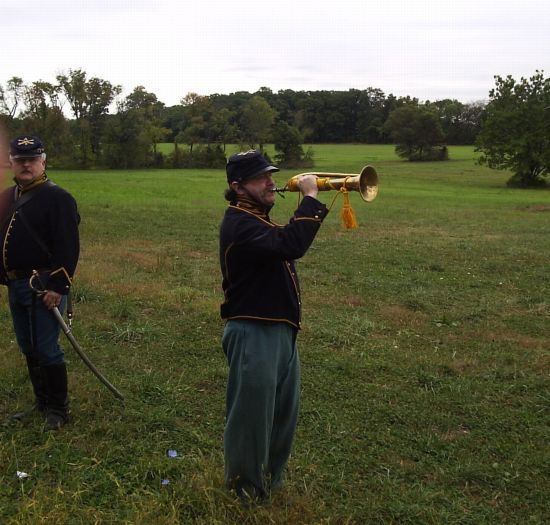 I participate in several living history reenactments each year.

I play an Amati Bb bugle.

A wonderful Civil War CD is The Civil War: Its Music and Its Sounds by the Eastman Wind Ensemble. Track 27 includes all the Cavalry Bugle calls played by the Eastman trumpet section.
I have recorded several classical CDs with the group Gaudeamus. You can order the CDs online at: http://www.letusrejoice.net/recordings.htm
You can contact me through the contact info page.